Convenience
Our firewood bundling system means less work for you. Broad Arrow Firewood uses an innovative system of bundling firewood on a pallet in a breathable mesh bag. This system saves you the labor of restacking your firewood and ensures that your wood is well seasoned.

With our unique palletizing system, we have had to develop a unique delivery process, which results in an added benefit to our customers. Our basic delivery plan means that we will place your firewood bundles neatly in your driveway or yard within 20' of our delivery truck, using our all-terrain pallet mover. Our pallet mover is light-weight, resulting in minimal soil compaction to your yard.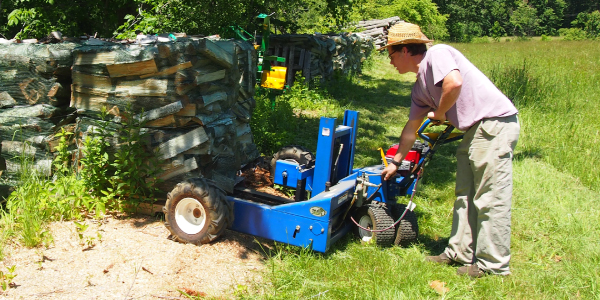 Using our custom delivery plan, we will take the time to place your firewood in a more custom and convenient location. While there are some limitations to where we can go with the pallet mover, most of the time we can save you a lot of effort otherwise expended moving your wood around. We are sensitive to your landscape, and make every effort to move lightly on your property.